Shifeng Chemical Fiberic, build most reliable brand!
Total investment of Shifeng Group Nylon Projects is CNY 10 billion. The program is designed and built by national chemical fiberic authorities and construction company with international advanced equipment such as continuous polymerization device, Germany BAMARG high-speed spinning, drawing and winding machine, straight twisting machine K3501B, Germany jet weaving machine AWSR4/E4, dipping machine JL1800/1D5HZ and other production equipment. The project was completed and started production in 2005.
Now, its annual production capacity of nylon chips, nylon industrial yarn, nylon dipped tire cord fabric gets 1 00,000 tons, that is the first in north area of the Yangtse River and the second in the industry of whole country.
As Sinopec has strong advantages in resources, Shifeng group build a long-term strategic cooperative alliances and good partnership with it. Sinopec is a largest integrated energy and chemical company in China which is a strongly influential multinational energy and chemical enterprises in the world. It is the first in the top 500 Chinese enterprises and the first in China of top 500 world enterprises. Shifeng group signed a strategic cooperation agreement with SinopEC on synthetic rubber, caprolactam, lubricating and Sinopec can supply enough chemical raw materials to Shifeng group. Series of Shifeng brand nylon products (including nylon chips, nylon industrial yarn, nylon-6 grey cloth, rnylon 6 dipped tire cord fabric and etc.) are sold to domestic and international market. Shifeng nylon rubber dipped tyre fabric makes users working more efficient and costing lower because of its'high fracture strength, high bonding strength, low square meter weight, larger volume package and good service performance. Now, Shifeng nylon series products approved by the TS16949 quality management system and are exported to 25 countries such as the United States, Italy, India, Thailand, Bangladesh, the Republic of Korea, North Korea, Iran and etc.. Nylon 6 dipped tire cord fabric is bulk used by famous domestic tire enterprises such as ZhongCe Rubber, GITI Tire, ZhengXin Tyre, Triangle Tyre, LingLong Tire and Double-Coin Tire. We developed more than 100 companies to use Shifeng nylon chips, yarn, twisted yarn, tyre cord fabric. The demand of every stage Shifeng nylon product exceed supply and are reputed very well in domestic and foreign maket!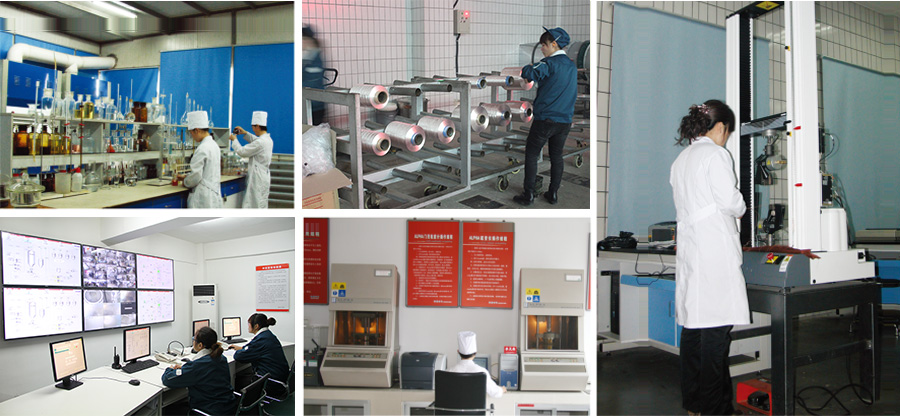 With a total investment of CNY 500 million, Shifeng Chemical fiberic and tire industrial park developed sophisticated detection equipment such as Mooney viscometer, sulfur change instrument, electronic tensile machine produced by a American company, Alpha Company which ensured the authenticity of inspection of raw materials, and tire endurance testing machine, strength testing machine and other sophisticated detection equipment produced by Taiwan Yukon company. We have sophisticated testing equipment and our test project are comprehensive, so we can strictly monitor and test during intermediate steps from raw materials to finished product to strongly ensure the production of high-quality products.